DVD Clothing is a Pro Seller. Quality and Satisfaction are guaranteed.
* You can add text or pictures to any shirt
* Shirts start at the low price of only $12.95
* We carry all Women's and Men Sizes up to 6XL
* Over 400 shirt styles and colors to choose from
* 100% satisfaction, 30 day return guarantee on all orders
* Plus you can "BE GREEN" with Organic/sustainable styles
We use a print on demand supplier. Our ordering system is fully customizable which means you can purchase any of our designs on your choice of color, size & style of apparel. Ordering is simple, easy and secure. All products purchased through Zazzle have a 30 day money back satisfaction guarantee.
Use links below to Shop by Product type
Shop by music genre:
Gifts for Hip Hop music fans:
Hip Hop and Rap music related designs.
Gifts for Punk Rock music fans:
Punk Rock and old school Punk music related designs.
Gifts for Dubstep music fans:
Dubstep and Bass music related designs.
Gifts for Electronic Dance music fans:
Electronica and EDM related designs.
Gifts for Goth music fans:
Gothic and Darkwave music related designs.
Gifts for 80s Newwave music fans:
NewWave and Eighties music related designs
DVD Clothing is an online shopping site and social community where members can share opinions and review popular Movies, apparel and gifts. We offer original and name brand merchandise for fans of music and pop culture.
DVD Clothing offers you original designs and name brand Clothing, Official band merchandise, affordable unique gifts as well as the coolest underground designs by up and coming artists.
Our original designs are available as one of a kind print on demand gifts that are fully customizable.
You can purchase any of our designs on your choice of color, size & style of apparel. Ordering is simple, easy and secure. All customizable DVD Clothing originals printed and delivered by Zazzle.com have a 30 day money back guarantee.
Our artists also create custom logos and designs that can be placed on many quality products. We love to hear your feedback and work to provide current and interesting designs to our group of friends and loyal customers. We are adding new designs, products and links to cool sites frequently so sign our mailing list to be kept up on special events, discounts, new products and news.
What is DVD Clothing?
DVDclothing.com is an eCommerce site offering designs by artist Dusty Vinyl and related pop culture merchandise. DVD Clothing also offers a collection of online shops that offer Music news, Art, and Apparel that caters to music and pop culture fans.

The "D.V.D." in DVD Clothing stands for "Dusty Vinyl Design".
Dusty Vinyl Design is owned and operated by Artist and musician Dusty Vinyl which is the nickname given to him from his early day obsession of collecting old dust covered classic vinyl record covers for artistic inspiration.

Dusty Vinyl originals are inspired by Pop culture, Music, Film, Tattoo and Street art.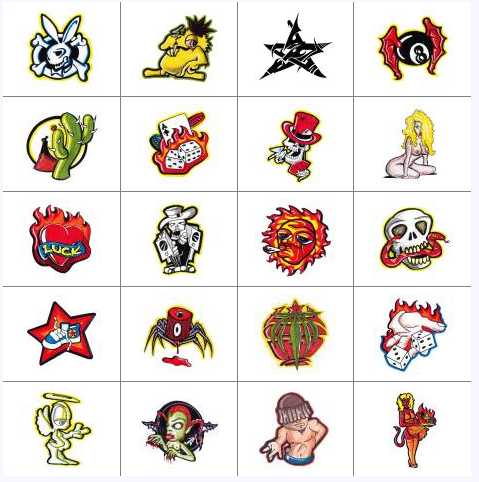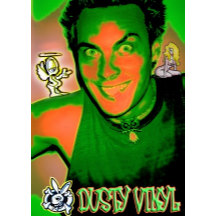 Who is Dusty Vinyl?
Dusty Vinyl is the moniker used by artist and musician Devin B.
Devin B. bio:
Devin has worked in the music industry for the past 15 years and currently works in concert production, graphic design and helps run MusiciansSupport a nonprofit charity for music education in Los Angeles.
Born and raised in Southern California to musical and artistically creative parents. Devin was inspired by music and performance at an early age and has remained so to this day. As an impressionable teen growing up in the 80′s Devin became interested in the emerging Hip Hop and Alternative music scenes and was heavily influenced by pop culture.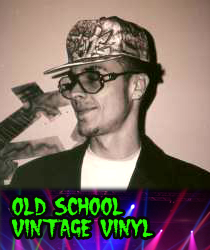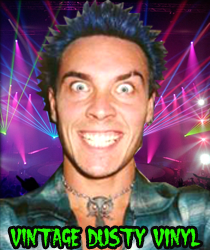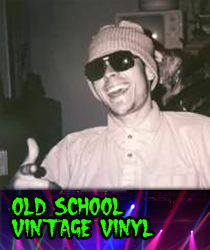 In his early teen years Devin began to experiment with Electronic music. His choice of instruments were turntables, programming samplers, drum machines and the unconventional use of keyboards as well as other instruments.
Without any musical training Devin went on to create his own hybrid blend of beat driven, Electronic music that was in those days hard to put a title on. As musical styles evolved and blended, years later the styles would become referred to by many as Electronica, Electro and Trip Hop.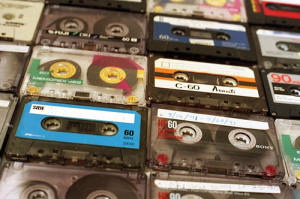 In his early twenties he went on to become a singer, songwriter which lead him to join with other musicians to form a musical group called Funktion that went on to perform locally in the growing L.A., I.E. and O.C. music scene for many years.

*Link opens in new window.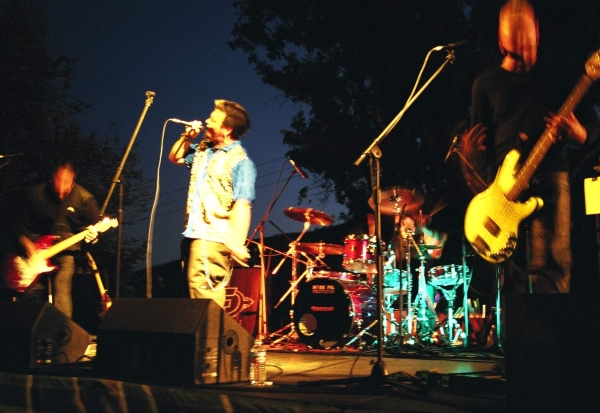 As a musician he had the opportunity to perform on the same bill with acts such as Red Hot Chili Peppers, Incubus, Crazy Town, The Offspring, Pennywise, Mike D from Beastie Boys, Mix master Mike, Weezer, Kotton Mouth Kings, (HED) p.e.., Lit, Long Beach Dub All-stars, Lefty, SX10, Dial7, Weapon of choice, Rumble Fish and many more.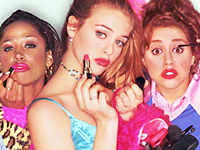 Devin also worked as an extra in a few film and music video shoots which allowed him to appear in a few movies such as Clueless, Hunt for Red October, Strange Days as well as music videos by Boys 2 Men and Rage Against the Machine.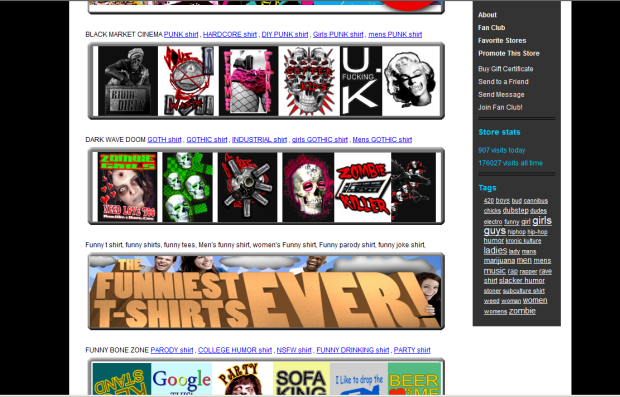 During the early days of MySpace mayhem, Devin created a large network of over 100K fellow artists and musicians. It was from this platform that DVD Clothing was launched and developed.
From that point on Dusty worked with other artists to create various themed music related lines of merchandise.
A list of a few of the clothing brands created by Dusty Vinyl Design that have come and gone over the years.









Early DVD Clothing banner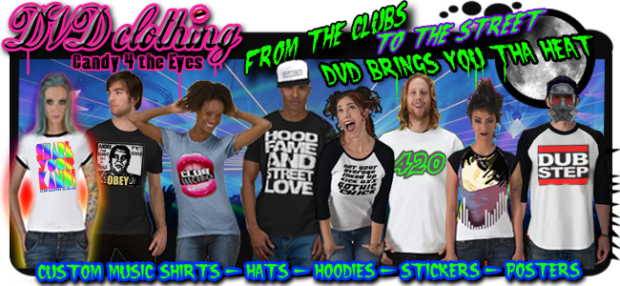 Most brands were experiments and didn't make the cut, some sold some tanked. In the end, the learning process was the important part and Dusty was able to put together a great group of artists and musicians for his next project.
Dusty started a group project called GENERATION ONLINE which included his musician and artist friends that wanted to be included in group designs. The concept was simple, everyone promoted each other and we all got our 15 minutes of fame. It was a great time for networking among many friends on these projects. Through group effort we were able to complete 3 versions before MySpace imploded. Below are the 3 designs that were offered on clothing and other merchandise.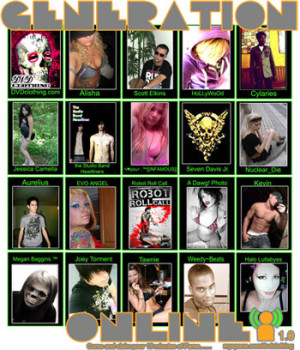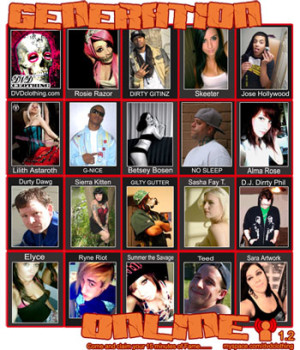 The exposure got Dusty Vinyls ideas and designs noticed by a few clothing companies and led to many custom design projects and store sales. One of which was a simple original text design that was purchased by local So Cal clothing distributor Hot Topic for a profitable $20,000.00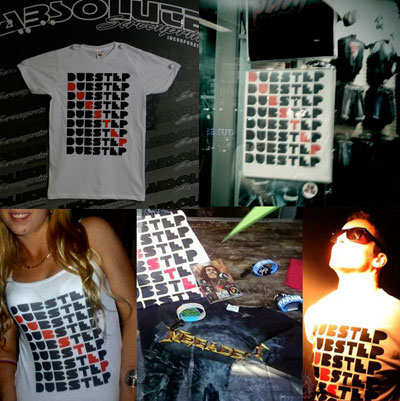 This was the beginning of many new design and business possibilities which led Devin (aka Dusty Vinyl) to start an online web design company called Web Graphic Guy which currently offers custom graphics, website design and video creation.
Working in the music and entertainment industry has allowed Devin the pleasure of meeting and working closely with such artists as KISS, Sting, Dr Dre, Pink, Carlos Santana, Christina Aguilera, the Black Eyed Peas, Mary J. Blige, Nelly, No Doubt, Jennifer Love Hewitt, Lenny Kravitz, Alanis Morissette, Paul Rudd, Britney Spears, Sean "Puffy" Combs, Brittany Murphy, Ricky Martin, Nelly Furtado, Pussycat Dolls, The Bee Gees, Mýa, Lil' Kim, Kelly Clarkson, Aerosmith and many more.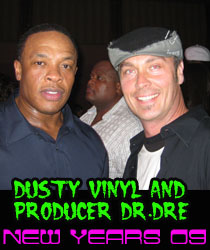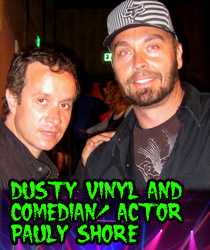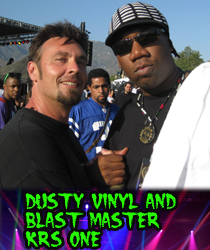 Devin continues to enjoy producing music, designing art and remains active in helping others with their musical projects.
Devin also currently devotes time to the Musicians Support nonprofit 501c3 charity for music education in Los Angeles which he help to co-found with his good friend and business colleague Marc Bernal.
Favorite quote:

"We are the music makers… And we are the dreamers of dreams."
- Arthur William Edgar O'Shaughnessy (as delivered by Mr. Wonka)
Message from Devin B.
DVD Clothing owner:
Hello, Thanks for visiting my website. Music has always had a profound effect on my life. I spent many years performing and working in the music industry, I have had the opportunity to meet many cool and talented people.

I have a lot of respect for Artists and musicians as well as the people behind the scenes in production that make the music and art events happen. I can relate to others that have found music to have great meaning in their lives.

As a businessman, I like to find, develop and promote great projects and products. As an artist I just like to have fun and do not take things to seriously.

I am a self trained artist that creates with a "Do It Yourself" attitude. I enjoy making simple parody designs as a fan of pop culture humor and music.

The most important thing to me is family and friends. The rest is an ongoing learning experience.

Thanks for stopping by.
Blessings,
Devin B., aka Dusty Vinyl
Artist and owner of Dusty Vinyl Design, DVD Clothing and its related sites.
DVDclothing.com is an online Movie, Music, Art and Apparel community.
The interaction and communication through DVDClothing.com and popular social media sites such as Google+, Twitter, Facebook, Pinterest, Instagram, Flickr and Wikipedia provide more than just a respected shopping site.
DVD Clothing provides a user friendly atmosphere where members can vote, review and purchase popular DVDs, Blu-ray movies, Street wear, Cool clothing and unique affordable gifts.
Our members are encouraged to share their latest finds from such reputable and trusted sites such as Amazon and other respected e-commerce sites.

Incoming search terms:
DVDClothingCoolArtgearclothesMusicMerchandise
www dvdclothing com