The "D.V.D." in DVD Clothing stands for "Dusty Vinyl Design".
Dusty Vinyl Design is owned and operated by Artist, Producer, Writer, Programmer and Musician Dusty Vinyl which was the nickname given to Devin B. from his close kin for obsession with collecting old dust covered classic vinyl record covers and sampling loops for artistic and vocal inspiration.
Devin aka Dusty grew up in the 80s with MTV, The threat of nuclear war and the separated cliques of dedicated music fans. You didn't just claim to like various music style/genres/sub-genres of music or movies at that time. If you did you were an "Outsider", "Poser" or "Wannabe" which is always where Dusty Vinyl found himself and yet felt most at home and over time learned he was willing to defend his ground.
Dusty's desire for understanding music and music fans took him from the local suburban house parties in the Foothills off Route 66 to the "Disco Biscuit" backyard D.J. jams thrown from Covina Ca. to Los Angeles. From the suburbs of I.E, O.C and L.A. to the live Hip Hop parties and rhyme cyphers held in Venice Beach Ca. and the projects in South Central L.A.
"At that time it was common to be considered a weirdo if you liked various genres of music…There was no love, no respect and no remorse for a fan of all music. The critics, popular group and the powers that be had it out for you. Somehow Dustys group of close knit music fans kept low key and got the blessing of respected house party hosts, local clubs, DJs and real OG's"
"At that time you had a good chance of starting a brawl if your boom box cassette played a Punk, Ska or New Wave track after a Hip Hop jam. If you stood for what you loved in those days, you had no one to back you, you received ridicule and quite often risked an ass whippin"

Dusty Vinyl original art is inspired by Pop culture, Saturday morning cartoons, Sci-Fi, Music, Film, After school specials, B Movies, 80s Movies, Tattoo and Street art. Devin has been an artist since the age of 7 and loved the Muppets, Rank and Bass, The Hobbit, Dark Crystal, Sesame Street and Saturday Cartoons with a passion.
Some artistic inspirations remain to be Jim Henson, Ralph Bakshi, Prince Roger Nelson, Beatles, Led Zeppelin and to many more to list here.
The following images are from a scan taken from an original "Flash" art set by Devin sold to ink shops from Venice Beach. to Hollywood Ca.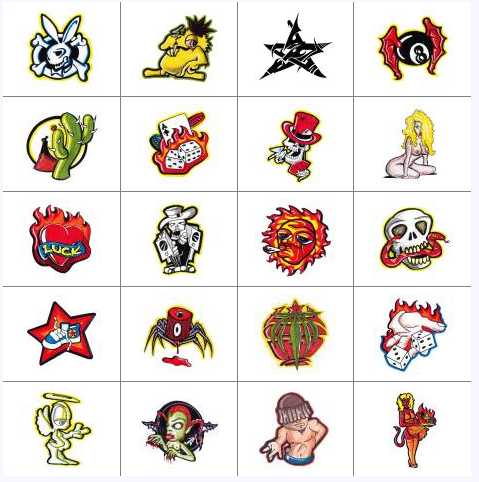 A few close friends have Dusty's art under their skin.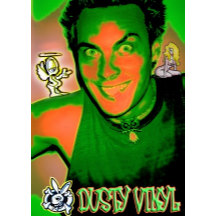 Who is Dusty Vinyl?
Dusty Vinyl is the moniker used by artist and musician Devin B.
aka Dusty Vinyl, Madlove, Space Rat and Style 101.
Devin B. bio:
Devin has worked in the music industry for the past 25 years and currently works in concert production with Live Nation, graphic design and helps run MusiciansSupport a nonprofit charity for music education in Los Angeles.
Born and raised in Southern California to musical and artistically creative parents. Devin was inspired by music and performance at an early age and has remained so to this day
Check out an example of musical Solo work here and Band work here.
As an impressionable teen growing up in the 80?s Devin became interested in the emerging Hip Hop and Alternative music scenes and was heavily influenced by pop culture. Graffiti art, Fantasy films, Sci Fi, 80s Movies and most of all Faith in the Good news.

Many feverish lonely nights spent as a musical chemist listening to records and cassette tapes meditating on various genres and decades of music trying to understand what made a music fan willing to die for his cause, a poor kid on the block down by law, lost kids willing to stand for what they believed in…. one part being the music they loved.
"The whole thing sounds over dramatic and it is. The truth of the matter is the times were dramatic, life was good and music was new!"
Dusty grew up in his teen years as an undercover poser living the life of a Wannabe Nerd, Poser D.I.Y. Punk, Outsider, Goonie, Local Hood, B-Boy, Late nigh graffiti artist and outcast… nightly, weekly, monthly.yearly. The goal was to gain an understanding of people, music and culture. This journey took Dusty from the suburbs of Route 66 to Mexico, Hawaii and New York.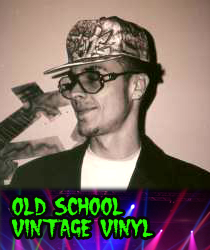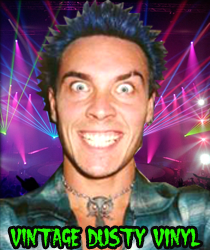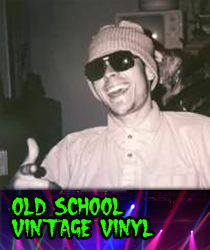 In his early twenties Dusty went on to become a singer, and songwriter which lead him to join with other musicians to form a musical group called Funktion that went on to perform locally in the growing L.A., I.E. and O.C. music scene over the next 10 years.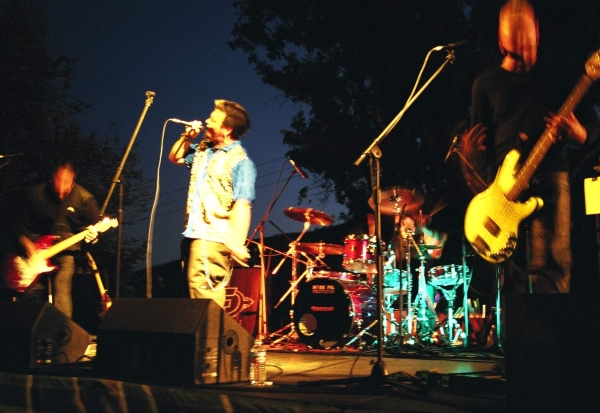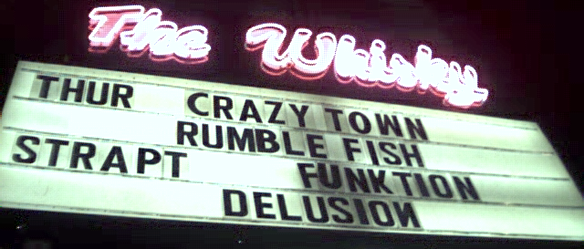 As a musician he had the opportunity to perform on the same bill with acts such as Red Hot Chili Peppers, Incubus, Korn, Alien Ant Farm, Crazy Town, The Offspring, Pennywise, Mike D from Beastie Boys, Mix master Mike, Weezer, Kotton Mouth Kings, (HED) p.e.., Lit, Long Beach Dub All-stars, Lefty, SX10, Dial7, Weapon of choice, Rumble Fish and many more.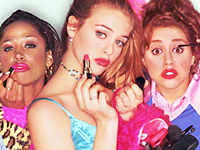 Devin also worked as an extra in a few film and music video shoots which allowed him to appear in a few movies such as Clueless, Hunt for Red October, Strange Days as well as music videos by Boys 2 Men and Rage Against the Machine.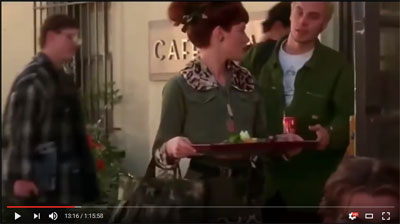 A short scene in Clueless with actress Elisa Donovan as Amber.
A shot I made in the RATM video. Great time I won't forget.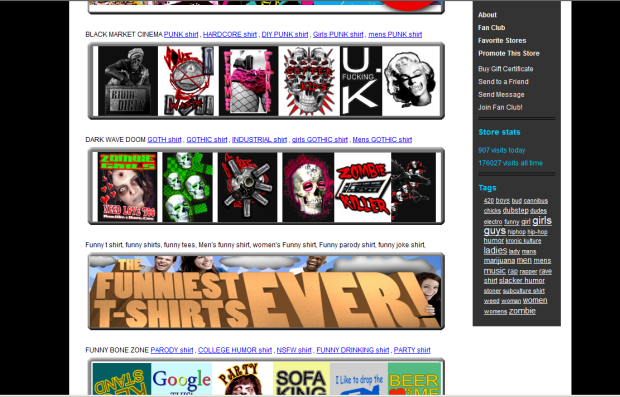 During the early days of MySpace mayhem, Devin created a large network of over 100K fellow artists and musicians. It was from this platform that DVD Clothing was launched and developed.
From that point on Dusty worked with other artists to create various themed music related lines of merchandise.
Most brands were experiments and didn't make the cut, some sold some tanked. In the end, the learning process was the important part and Dusty was able to put together a great group of artists and musicians in his next project.
A list of a few of the clothing brands created by Dusty Vinyl Design that have come and gone over the years.









Dusty started a group project called GENERATION ONLINE which included his musician and artist friends that wanted to be included in group designs. The concept was simple, everyone promoted each other and we all got our 15 minutes of fame. It was a great time for networking among many friends on these projects. Through group effort we were able to complete 3 versions before MySpace imploded. Below are the 3 designs that were offered on clothing and other merchandise.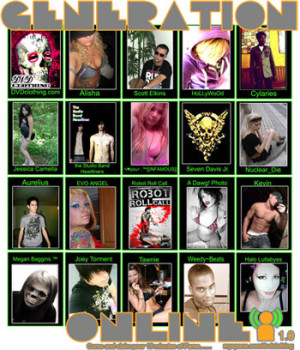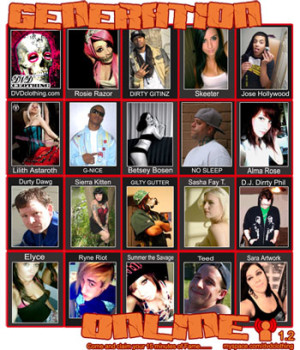 Long have the days of Myspace past but Devin still keeps in contact with a list of over 200k music, Fashion and Art lovers.
In the 90's Devin got involved in the early Love of Trip Hop, Dubstep, Jungle and other Electronic genres in the UK long before it hit home in the states.
Devin started to network with local DJs, Producers an Programmers in the UK and started his own network through Dusty Dublplate
The exposure, odd designs and UK inspired memes got Dusty Vinyls ideas and designs noticed by a few clothing companies and led to many custom design projects and store sales. One of which was a simple original text design that was purchased by local So Cal clothing distributor Hot Topic for a profitable $20,000.00-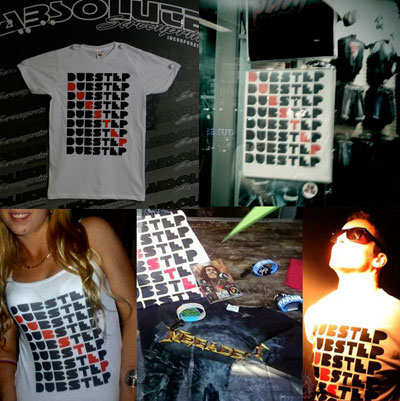 This was the beginning of many new design and business possibilities which led Devin (aka Dusty Vinyl) to start an online web design company called Web Graphic Guy which currently offers custom graphics, website design and video creation.
Working in the music and entertainment industry has allowed Devin the great pleasure of meeting and working closely with such artists as KISS, Sting, Dr Dre, Alicia Silverstone, Pink, Carlos Santana, Christina Aguilera, Stacey Dash, the Black Eyed Peas, Nelly, No Doubt, Jennifer Love Hewitt, Lenny Kravitz, Paul Rudd, Britney Spears, Sean "Puffy" Combs, Brittany Murphy (RIP), Ricky Martin, Pussycat Dolls, The Bee Gees, Mýa, Lil' Kim, Kelly Clarkson, Aerosmith and many more.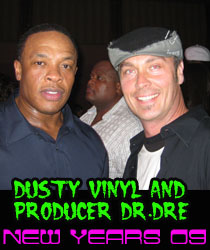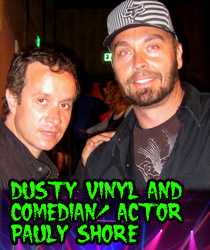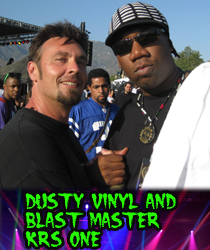 Devin continues to enjoy producing music, designing art and remains active in helping others with their musical/Video/Visual projects.
Devin also currently devotes time to the Musicians Support charity for music education in Los Angeles which he help to co-found with his good friend and business colleague Marc Bernal. Devin is currently in the process of launching multiple online business ventures and is actively looking for hustlers and shakers that want to get involved and move forward.
Favorite quote:
"We are the music makers… And we are the dreamers of dreams."
– Arthur William Edgar O'Shaughnessy (as delivered by Mr. Wonka)
Message from Devin B.
DVD Clothing owner:
Hello, Thanks for visiting my site. Music has always had a profound effect on my life. I spent many years going to house parties, events and clubs to performing with my own band and working in the music industry, I have had the opportunity to meet many cool and talented people.
I have a lot of respect for Artists and musicians as well as the people behind the scenes in production that make the music and art events happen. I can relate to the music fans that have found music to have great meaning in their lives.
As a businessman, I like to find and promote great projects and products. As an artist I just like to have fun and do not take things to seriously. The point of most of the designs available here are presented with the intent that they will be customized. They are meant to be templates for music memes and pop culture humor reference.
I am a self trained artist that creates with a "Do It Yourself" attitude. I enjoy making simple parody designs as a fan of pop culture humor and the music that effects and inspires me to try new things.
The most important thing to me is family and friends, I consider music to be both.
Enjoy! Thanks for stopping by.
Blessings and Godspeed,
Devin B., aka Dusty Vinyl
Artist and owner of Dusty Vinyl Design, DVD Clothing and its related sites.
.